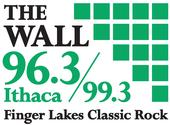 The Wall 99.3/96.3 FM WLLW
is a Classic Rock
radio station
out of
Seneca Falls
that broadcasts throughout the Finger Lakes. They are owned by the
Finger Lakes Radio Group
. They are known for their morning show, Bob and Tom in the Morning, which airs from 6 to 10 AM Monday through Saturday, during which no music is played. They also have Ken Paradise weekday afternoons from 3 to 6 PM who plays music.
Since 1995, The WALL has been the Home for Classic Rock in the Finger Lakes! The WALL's playlist embodies four decades of genuine rock and roll. From the psychedelic 60s and guitar rock of the 70s to the big hair 80s and the grunge movement of the 90s!Core artists include Jimi Hendrix, The Doors, Aerosmith, Heart, AC/DC,The Black Crowes, Led Zeppelin and more. If you can rock out to it...You'll hear it on the WALL!
Ad blocker interference detected!
Wikia is a free-to-use site that makes money from advertising. We have a modified experience for viewers using ad blockers

Wikia is not accessible if you've made further modifications. Remove the custom ad blocker rule(s) and the page will load as expected.