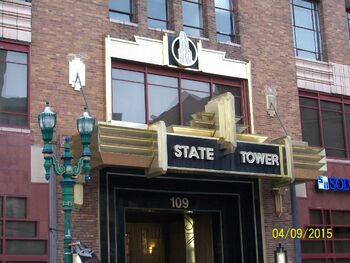 The State Tower Building is a historic art deco high-rise in Downtown Syracuse. Built in 1928, it is still the tallest building in Syracuse at just over 300 feet high. It is a contributing part of the Hanover Square historic district.
It is the site of regular peregrine falcon nesting. In 2010, four falcons were born including four males. It also has a large flagpole at the top which Syracuse.com ran a story of how it is still raised and lowered manually.[1]
References
Edit
Ad blocker interference detected!
Wikia is a free-to-use site that makes money from advertising. We have a modified experience for viewers using ad blockers

Wikia is not accessible if you've made further modifications. Remove the custom ad blocker rule(s) and the page will load as expected.