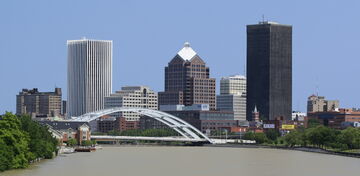 Rochester is a major city located north of the Finger Lakes Region near Lake Ontario. The Rochester metropolitan area has about 1,000,000 people, with about 220,000 is the city. The Genesee River flows right through the center of Rochester. Nick Tahou Hots is a landmark restaurant located in Rochester which features the Garbage Plate. Rochester is home to many major companies and businesses, including Wegman's. The newspaper for the Rochester area is the Democrat & Chronicle. Rochester has its own Wiki called The RocWiki: https://rocwiki.org/
Radio and TV stations
Edit
Rochester is home to five major network TV stations; CBS 8, NBC 10, ABC 13, PBS 21, and Fox 31.
Radio stations in Rochester include 95.1 The Fox, 96.5 WCMF, Warm 101.3, 98.9 The Buzz, and 92.5 WBEE. They also have a popular AM talk/news radio station, WHAM 1180.
All of these major stations can be heard throughout the majority of the main Finger Lakes Region, though Rochester's transmitters, especially for TV, are exceptionally low and weak, so Syracuse media is generally easier to receive, even when it is more distant.
Ad blocker interference detected!
Wikia is a free-to-use site that makes money from advertising. We have a modified experience for viewers using ad blockers

Wikia is not accessible if you've made further modifications. Remove the custom ad blocker rule(s) and the page will load as expected.