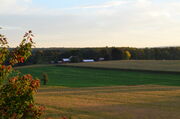 The Reynolds Farmstead is a typical example of an agricultural settlement in 19th century vernacular, common to the region. This homestead dates to roughly the mid 1800s, some structures dating to circa 1850 and others closer to 1900, with the surname of Reynolds. It is located in a concurrent jurisdiction of the Town of Seneca and the Town of Geneva. The house dates to 1853 and is a one-and-a-half-story Greek Revival farmhouse, built of wood but in a similar style to the local cobblestone architecture, though it lacks some details of the more ornate finishings.
Ad blocker interference detected!
Wikia is a free-to-use site that makes money from advertising. We have a modified experience for viewers using ad blockers

Wikia is not accessible if you've made further modifications. Remove the custom ad blocker rule(s) and the page will load as expected.