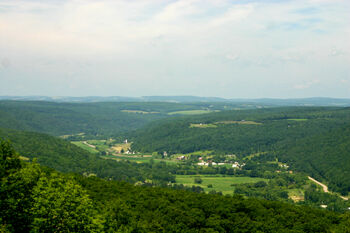 The Pinnacle State Park and Golf Course is a State Park and golf course located in Steuben County. The park is southwest of Corning, in the Town of Addison, east of Village of Addison.
List of facilities and programs
Edit
Picnic tables, Pavilions, Food, Fishing, Golf (9 holes), Hiking, Hunting (deer, turkey, and small game when in season), Cross-country skiing. The first section of Great Eastern Trail in New York was marked at Pinnacle State Park in 2008.
Ad blocker interference detected!
Wikia is a free-to-use site that makes money from advertising. We have a modified experience for viewers using ad blockers

Wikia is not accessible if you've made further modifications. Remove the custom ad blocker rule(s) and the page will load as expected.