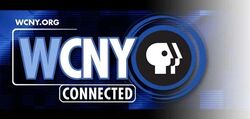 PBS 24 is the public broadcasting television station for Syracuse on Channel 24.
While other local stations relay network programming in HD, WCNY-TV is the only television station in the Syracuse market to produce and broadcast their own programs in High Definition. Cinema 24 on DTV 24.3 is a unique channel specializing mainly in public domain films from the 1920s through the 1960s, as well as reruns of PBS series such as Independent Lens.
The station is owned by The Public Broadcasting Council of Central New York, who also owns 91.3 WCNY-FM (Classic FM).
Ad blocker interference detected!
Wikia is a free-to-use site that makes money from advertising. We have a modified experience for viewers using ad blockers

Wikia is not accessible if you've made further modifications. Remove the custom ad blocker rule(s) and the page will load as expected.