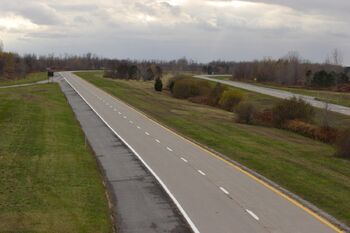 The Lake Ontario State Parkway is a 35 mile long parkway along the south shore of Lake Ontario. The west end is at NY State Route 18 in Carlton and the east end is at Lake Avenue in Rochester. The parkway is part of the Seaway Trail that extends along the shores of Lake Erie and Lake Ontario.
The parkway connects multiple state parks along the southern shore of Lake Ontario, from Lakeside Beach State Park (and the adjacent Oak Orchard State Marine Park) in the west to Braddock Bay State Park in the east, with Hamlin Beach State Park located in between.
Ad blocker interference detected!
Wikia is a free-to-use site that makes money from advertising. We have a modified experience for viewers using ad blockers

Wikia is not accessible if you've made further modifications. Remove the custom ad blocker rule(s) and the page will load as expected.