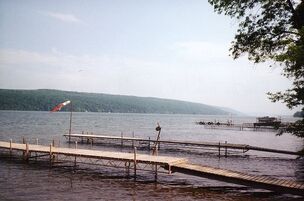 Keuka Lake, also known as the Crooked Lake, is the Finger Lake that is known for it's Y shape. At it's North end is the village of Penn Yan. Keuka Lake is great for swimming and boating or any other summertime activites because it is small and warm, with its water getting to well over 70 degrees in the summertime. YMCA Camp Cory is a sailing and summer camp located on the East side of the lake off Route 54A, just South of Penn Yan.
Keuka Lake is the center of the Finger Lake's wine industry with abundant wineries and and wine tours along the Keuka Lake Wine Trail.
Route 54 runs along the west side of Keuka Lake while Route 54A runs along the east side. Route 54 and 54A connect in Penn Yan at the north end of the lake and in Hammondsport at the south end.
Ad blocker interference detected!
Wikia is a free-to-use site that makes money from advertising. We have a modified experience for viewers using ad blockers

Wikia is not accessible if you've made further modifications. Remove the custom ad blocker rule(s) and the page will load as expected.