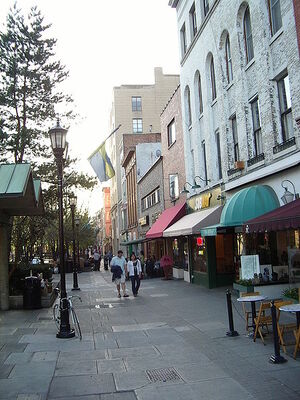 Ithaca Commmons is a two block pedestrian mall located in downtown Ithaca. Its boundaries are Green Street to the south, Cayuga Street to the west, Seneca Street to the north, and Aurora Street to the east. It sits at the intersection of Tioga and State Streets. Shops, galleries, restaurants, and bars line either side of the Commons, while the walkway is dotted with trees, benches and sculptures.
The Tompkins Consolidated Area Transit, or TCAT, bus network's main hub is located just off the south-west corner of The Commons on Green Street near the library.
Ad blocker interference detected!
Wikia is a free-to-use site that makes money from advertising. We have a modified experience for viewers using ad blockers

Wikia is not accessible if you've made further modifications. Remove the custom ad blocker rule(s) and the page will load as expected.