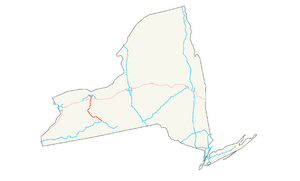 Interstate 390 is a 76 mile north/south Interstate highway that runs from Interstate 490 in Rochester to the Southern Tier Expressway (Interstate 86/Route 17). North of 490, 390 is no longer an interstate and is know as New York Route 390 and runs all the way to the Lake Ontario State Parkway in Greece. It is still a highway north of 490.
Ad blocker interference detected!
Wikia is a free-to-use site that makes money from advertising. We have a modified experience for viewers using ad blockers

Wikia is not accessible if you've made further modifications. Remove the custom ad blocker rule(s) and the page will load as expected.