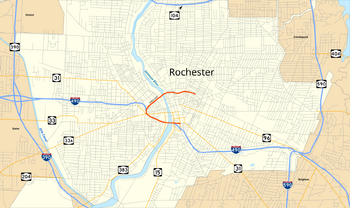 The Inner Loop is a ring road around Downtown Rochester. The full loop used to be a highway, but the eastern section is being filled in and replaced by surface streets in hopes of more downtown and East End revitalization, to which the deep-cut highway was considered a literal barrier. The southern part of the Inner Loop is formed by 490, which has a spur west of downtown for the remaining Inner Loop highway, which now ends at Scio Street.
There is also a less formal Outer Loop formed by 390 and 590 that circles the city limits.
Ad blocker interference detected!
Wikia is a free-to-use site that makes money from advertising. We have a modified experience for viewers using ad blockers

Wikia is not accessible if you've made further modifications. Remove the custom ad blocker rule(s) and the page will load as expected.