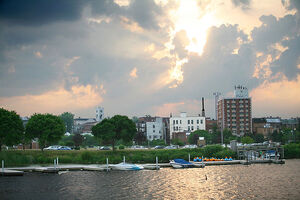 Geneva is a city located at the North end of Seneca Lake. Geneva is home to many businesses, including Hobart and William Smith Colleges, the now super Geneva Walmart, Tops, 84 Lumber, Valu Home Center and BJ's. There is a Lowe's in Border City. Country music radio station K101.7 is located in Geneva New York, as well as the Finger Lakes Radio Group, which owns the stations The Wall 99.3 and 98.5 WNYR. The population of Geneva was 13,617 in 2000. It is the largest city in Ontario County. Geneva is a proactive municipality in the region and holds events such as Geneva Night Out.
Geneva is home to Area Records & Music and the Town and Country Plaza.
Ad blocker interference detected!
Wikia is a free-to-use site that makes money from advertising. We have a modified experience for viewers using ad blockers

Wikia is not accessible if you've made further modifications. Remove the custom ad blocker rule(s) and the page will load as expected.