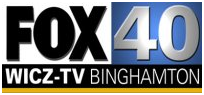 FOX 40 WICZ-TV is the Fox television station for Binghamton on Channel 40. They air a nightly 10 o'clock newscast which is 32 minutes in length on weeknights and 28 minutes on weekends. The broadcast is re-aired every night at 11 on WBPN and then again on this station weekday mornings at 5am. Starting Memorial Day 2009, it added a weeknight 6 P.M. newscast. This makes it one of a few Fox affiliates to air local news in this time slot.
WICZ is sister to low-powered MyNetworkTV affiliate WBPN-LP/LD (My 8) and the two stations share studios on Vestal Parkway East in Vestal.
Ad blocker interference detected!
Wikia is a free-to-use site that makes money from advertising. We have a modified experience for viewers using ad blockers

Wikia is not accessible if you've made further modifications. Remove the custom ad blocker rule(s) and the page will load as expected.