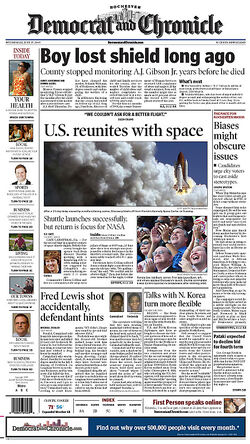 The Democrat & Chronicle is the biggest newspaper in the city of Rochester. The Democrat and Chronicle is headquartered at 55 Exchange Boulevard in downtown Rochester. According to the official site, the Democrat and Chronicle is delivered to over 170,000 homes, 1300 retail stores and over 1000 news racks.
History
---
Founded in 1833 as The Balance, the paper eventually became known as the Daily Democrat. The Daily Democrat merged with another local paper, the Chronicle, in 1870, to become known as the Democrat and Chronicle. The paper was purchased by Gannett in 1928. This is also when the D&C's current editorial facility was built, on Exchange Boulevard in Rochester.
Ad blocker interference detected!
Wikia is a free-to-use site that makes money from advertising. We have a modified experience for viewers using ad blockers

Wikia is not accessible if you've made further modifications. Remove the custom ad blocker rule(s) and the page will load as expected.