The Chenango Canal was a towpath canal that was built and operated in the mid-19th century in Upstate New York. It was 97 miles long and for much of its course followed the Chenango River, from Binghamton on the south end to Utica on the north end. It operated from 1834 to 1878 and provided a significant link in the water transportation system of the northeastern U.S., connecting the Susquehanna River to the Erie Canal.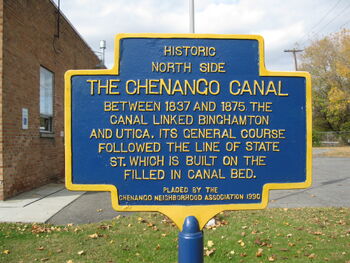 Ad blocker interference detected!
Wikia is a free-to-use site that makes money from advertising. We have a modified experience for viewers using ad blockers

Wikia is not accessible if you've made further modifications. Remove the custom ad blocker rule(s) and the page will load as expected.