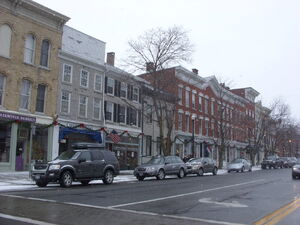 Cazenovia is a village of about 2600 people located at the south end of Cazenovia Lake on US Route 20. Cazinovia is home to Cazenovia College.
Cazenovia was established in 1794 by John Lincklaen, a young Dutch naval officer who purchased the town under the auspices of the Holland Land Company. Some of the first buildings established in Cazenovia were what is now the Presbyterian Church and the company store. The town is named after Theophilus Cazenove, an agent with the land company. The village was incorporated in 1810 and was the first county seat (until 1817). Many of the village's historic buildings are encompassed by the Albany Street Historic District and Cazenovia Village Historic District.
In 2005, the Cazenovia High School Academic Decathlon team made history by winning the school's first state title, sending the team to the national competition in Chicago. The team retained its title in 2006, 2007, 2008, and 2009 traveling to San Antonio, Texas, Honolulu, Hawaii, Anaheim, California and Memphis, Tennessee for the national competition.
Ad blocker interference detected!
Wikia is a free-to-use site that makes money from advertising. We have a modified experience for viewers using ad blockers

Wikia is not accessible if you've made further modifications. Remove the custom ad blocker rule(s) and the page will load as expected.