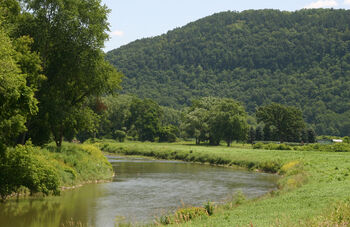 The Canisteo River is a tributary of the Tioga River, approximately 55 mi (90 km) long, in western New York. It drains a dissected plateau, a portion of the northern Allegheny Plateau southwest of the Finger Lakes region, in the northwestern reach of the watershed of the Susquehanna River.
It rises in the hills of northern Allegany County, approximately 15 mi (25 km) southwest of Dansville. It flows east into northern Steuben County, then generally southeast past Hornell and Canisteo. It joins the Tioga from the west in southeastern Steuben County, approximately 10 mi (15 km) north of the Pennsylvania state line and 5 mi (8 km) southwest of Corning.
Ad blocker interference detected!
Wikia is a free-to-use site that makes money from advertising. We have a modified experience for viewers using ad blockers

Wikia is not accessible if you've made further modifications. Remove the custom ad blocker rule(s) and the page will load as expected.