Canisteo is a village of about 2,300 people in Steuben County, in the Southern Tier. It is southeast of Hornell.
The village is located at the junction of State Route 36 and State Route 248. County Route 28 joins State Route 36 south of the village and County Route 119 passes the north side of Canisteo.
The Canisteo River, flowing southeasterly, passes the north side of the village, where it is joined by Bennetts Creek.
Living Sign
Edit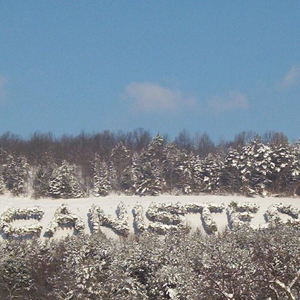 The village is home of the "world famous living sign" which was once featured in a Ripley's "Believe it or Not!" book. The sign spells out the name of the village in Scots Pine trees and has been around for more than fifty years. It is maintained by the local school and is viewable from Greenwood street near the elementary school. The sign, which has almost a perfect North/South axis is still used by the armed services to orient true north when flying over it. The Canisteo Living Sign was listed on the National Register of Historic Places in 2004.
The sign consists of a set of 260 pine trees that spell out the name "Canisteo." They occupy a space approximately 90 feet long and 300 feet wide. The sign was originally laid out in 1933.
Ad blocker interference detected!
Wikia is a free-to-use site that makes money from advertising. We have a modified experience for viewers using ad blockers

Wikia is not accessible if you've made further modifications. Remove the custom ad blocker rule(s) and the page will load as expected.