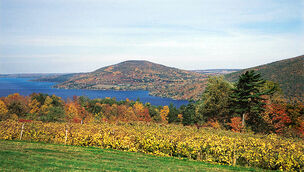 Canandaigua Lake is the fourth largest Finger Lake, located between Keuka Lake and Honeoye Lake. Canandaigua is located at the north end of Canandaigua Lake and Naples is a few miles from the South end. Canandaigua Lake is 15 1/2 miles long, 1 1/2 miles wide and 276 feet deep with an average depth of 127 feet.
Squaw Island is an 11,000 year old island located near the North end of the lake and is one of only two islands in the eleven finger lakes; the other being Frontenac Island in Cayuga Lake.
Ad blocker interference detected!
Wikia is a free-to-use site that makes money from advertising. We have a modified experience for viewers using ad blockers

Wikia is not accessible if you've made further modifications. Remove the custom ad blocker rule(s) and the page will load as expected.