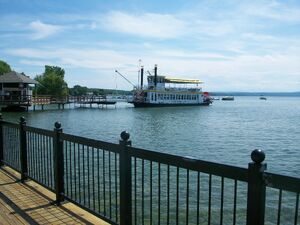 The Canandaigua Lady is a 19th century replica of a double decker paddlewheel steamboat on Canandaigua Lake, belonging to the Steamboat Landing Resort. The Canandaigua Lady gives passenger rides from late spring to the early fall, including narrated tours as well as lunch and dinner cruises. They will also do events such as weddings, sales meetings, and private charters.
Ad blocker interference detected!
Wikia is a free-to-use site that makes money from advertising. We have a modified experience for viewers using ad blockers

Wikia is not accessible if you've made further modifications. Remove the custom ad blocker rule(s) and the page will load as expected.