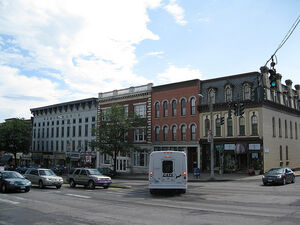 Canandaigua is one of the biggest cities in the Finger Lakes, located on the North end of Canandaigua Lake in Ontario County. The main campus of SUNY school Finger Lakes Community College is located in Canandaigua along with the Constellation Brands-Marvin Sands Performing Arts Center (CMAC), a live music outdoor concert venue that seats over 5,000 people. Shows are held all during the summer season. The name "Canandaigua" comes from the Seneca word Kanandarque, which means "The Chosen Spot".
Route 332 which runs from the Thruway to Route 5 and 20 (Eastern Boulevard) in Canandaigua is a north/south highway that forms Canandaigua's Main Street. It is seen in the photo to the right.
Ad blocker interference detected!
Wikia is a free-to-use site that makes money from advertising. We have a modified experience for viewers using ad blockers

Wikia is not accessible if you've made further modifications. Remove the custom ad blocker rule(s) and the page will load as expected.