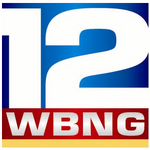 WBNG-TV is the CBS affiliate television station from Binghamton on Channel 12. It serves the eastern Southern Tier region and the southeastern Finger Lakes Region. It broadcasts a high definition digital signal on VHF channel 7. Syndicated programming on the station includes: Entertainment Tonight, Inside Edition, Oprah, and Rachael Ray. WBNG operates the area's CW affiliate on a second digital subchannel. This can also be seen on Time Warner Cable channel 11 hence the branding Binghamton CW 11. WBNG-DT2 gets all of its programming from The CW Plus. WBNG is the default CBS affiliate for most of Otsego County in the Utica market.
Ad blocker interference detected!
Wikia is a free-to-use site that makes money from advertising. We have a modified experience for viewers using ad blockers

Wikia is not accessible if you've made further modifications. Remove the custom ad blocker rule(s) and the page will load as expected.