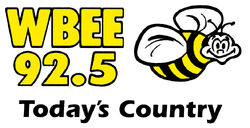 92.5 WBEE-FM is a country music radio station from Rochester.
The award winning Morning Show, "The BEE Morning Coffee Club" weekdays 5:30am to 10am, is hosted by Terry Clifford (T-Bird), Steve Hausmann (House), and Jeremy Newman (Norman/Newman/Neums). The Midday Shift 10-3pm is Hosted by Jesse, followed by Billy Kidd for the afternoon drive, Alan Kabel holds down the evenings, and "Big Daddy" Dave Beck runs the overnight duties until the morning. Kabel's show, The 2nd Shift, is syndicated to many other Entercom country stations as part of Entercom's foray into syndicated programming.
Ad blocker interference detected!
Wikia is a free-to-use site that makes money from advertising. We have a modified experience for viewers using ad blockers

Wikia is not accessible if you've made further modifications. Remove the custom ad blocker rule(s) and the page will load as expected.